After a two year pause on the Golf Classic, it was so great to bring everyone together again. FCVC is a tight knit community and we enjoy every opportunity to celebrate!
Congratulations to the following prize winners:
Marshall McKee (3 smooth 25s!)
The 50/50 Winner was Colette McAuley who very generously donated her $380 winnings back to the club!! Thank you Colette!!
And finally, congratulations to this year's Champions: Lloyd Rumble, Wayne Thompson, Kelly Entwistle and Julie Entwistle! This team executed an outstanding round of golf achieving a remarkable score of -16, their victory clenched by rolling in another birdie on the final hole to win by 1.  Well done!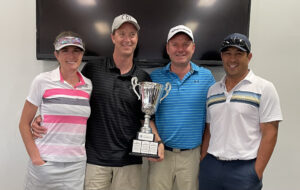 This event was made possible by Echo Valley Golf Course who donated all of the prizes for the day. Echo Valley has provided us with terrific community support for several years and we look forward to our partnership for years to come!
Please visit Forest City Volleyball Club on Facebook and Instagram to see golf team photos and follow us through the off-season - FCVC offers top-notch summer programs led by amazing Coaches!
Wishing each of you a happy and restful summer! and… Go FC!