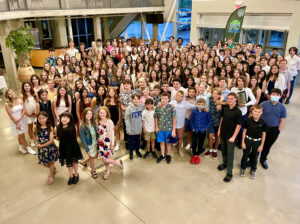 This year FCVC celebrated the return to competitive volleyball, albeit with some adjustments like league play and easing of COVID health and safety protocols. We were excited to have over 220 athletes playing the game of volleyball at the competitive and development level.
On June 8th we gathered for our annual club banquet to recognize the success of our 22 FCVC Boys and Girls teams, a number of which competed in the top of their divisions both provincially and nationally. Congratulations all on your hard work and commitment. Thank you to all our coaches, board members and parents who volunteered their time and contributed to our teams' and club's success.
Have a great summer, take some time to rest, and we will see you on the courts in September.
OVA Award of Excellence
The Award of Excellence medal is awarded annually to one member of every team participating in the OVA Provincial Championships. Coaches may choose to recognize an athlete that displays one or more of the following characteristics in their performance in the tournament - often named the OVA Champs MVP:
Dedication to the sport of volleyball
Perseverance and commitment
Sportsmanship and fair play, team spirit and/or leadership
Performance and/or most improved

12U Girls Pines: Kaia Bergeron
12U Girls Maples: Brynn Leasa

13U Boys Cycad & Sumac: Eoin DesRosiers

13U Girls Evergreen: MacKenzie Williams and Nicole Tyndall

13U Girls Lorax: Sophia Collazos

14U Girls Mahogany: Ania Magier

14U Girls Banyan: Jayla Dieleman

15U Boys Centurion: Keaton Mizak

15U Girls Aspen: Julia Santos

15U Girls Kauri: Isabella Martinez

16U Boys Icarus: Elijah Pereira

16U Boys Teak: Owen King

16U Girls Sequoia: Jasmine Pihokker

17U Boys Hyperion: Nigel Mason

17U Girls Cypress: Natalie McIntosh

17U Girls Helios: Kira Fairbach

18U Boys Baobab: Wasil Magdi

18U Girls Methuselah: Kate DeJong
FCVC Award of Excellence
12U Girls Pines: Antonella Tovas

12U Girls Maples: Anjana Goella

13U Boys Cycad & Sumac: Pax Giardino

13U Girls Evergreen: Bianca Chuy

13U Girls Lorax: Alanya Malaban

14U Boys Rangers: Griffin Craig
14U Girls Mahogany: Mia Welker

14U Girls Banyan: Keaton Schofield

15U Boys Centurion: Christian McCallum

15U Girls Aspen: Ana Stojanovic

15U Girls Kauri: Robin Allan

16U Boys Icarus: Noah Morelli

16U Boys Teak: Carter Patterson

16U Girls Sequoia: Siba Magdi

17U Boys Hyperion: Arthur Richards

17U Girls Cypress: Nicole Gallo

17U Girls Helios: Ella Froats

18U Boys Baobab: Andrew Kerkhoff

18U Girls Methuselah: Claudia Morelli

FCVC Award of Achievement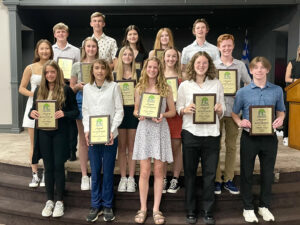 12U Girls Pines: Avery Sage

12U Girls Maples: Karli Maars

13U Boys Cycad & Sumac: Holden Broadbent

13U Girls Evergreen: Avery Thibeau

13U Girls Lorax: Lily Rutherford

14U Boys Rangers: Nathan Vandeloo
14U Girls Mahogany: Sienna Phillips

14U Girls Banyan: Whitney Coome

15U Boys Centurion: Zach Brouwer

15U Girls Aspen: Emelyn Collins

15U Girls Kauri: Megan Broughton

16U Boys Icarus: Hunter Craig

16U Boys Teak: Owen Atcheson

16U Girls Sequoia: Jenna Clunas

17U Boys Hyperion: Jared Kuiken

17U Girls Cypress: Sara Sobko

17U Girls Helios: Ciara McCluskey

18U Boys Baobab: Brayden Oldham

18U Girls Methuselah: Ingrid Yun

Nothers Team Award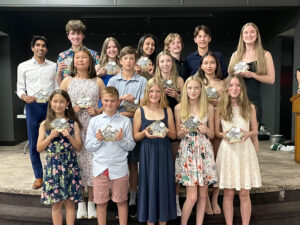 12U Girls Pines: Miranda Zhao

12U Girls Maples: Chloe Hou

13U Boys Cycad & Sumac: Hudson Nichols

13U Girls Evergreen: Taylor Williams

13U Girls Lorax: Pearl Huffman

14U Boys Rangers: Sam McLelland
14U Girls Mahogany: Quinn Savarie

14U Girls Banyan: Emma McLachlin

15U Boys Centurion: Mason Lange

15U Girls Aspen: Natalie Froats

15U Girls Kauri: AnaSophia Marin

16U Boys Icarus: Andrew Smith

16U Boys Teak: Elliot McInnis

16U Girls Sequoia: Stella Mitoraj

17U Boys Hyperion: Jason Toft

17U Girls Cypress: Laura Marin

17U Girls Helios: Ava Dodge

18U Boys Baobab: Sujai Shah

18U Girls Methuselah: Payton Entwhistle