Celebrating Volleyball for Life, the annual OVAtion Awards honour those who have distinguished themselves by providing their time, effort and support to the promotion and development of volleyball in the province. FCVC is proud to celebrate three coaches who received recognition this year.
OVA Recognition Award is presented annually to an individual who has been involved in the development of volleyball at the club, regional or provincial level as an administrator (OVA committee work, referee, coach development, etc.) for five years or more.
Bonnie Cooper was a decorated athlete with the Western University Mustangs. A three-time MVP between 1993 and 1998, an OUA Championship and Tournament All-Star nod, two-time OUA All-Star, CIS (now USports) Honourable Mention and Purple Blanket Award recipient, Bonnie earned her place in the Mustangs Sports Hall of Fame in 2017. She took the role of the Mustangs Assistant Coach for a total of five years and split her latter years with the team coaching at the Forest City Volleyball Club and working on Western's Sports Administration team, where she still works today. She re-joined Forest City Volleyball Club in 2013 after a 13-year hiatus and is the current coach of the 18U girls. On top of her work in volleyball, Bonnie has committed her time working towards providing more sport opportunities for the youth of the London area as a member of KidSport London which helps cover costs of registration fees through grants. Congratulations, Coach Bonnie!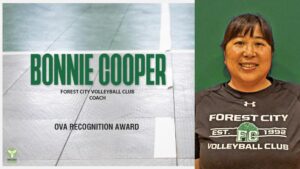 Jamie Neilson's involvement in volleyball goes back to 1985 when he was under the tutelage of OVA Hall of Fame inductee Vaughan Peckham on the Oakridge Secondary School boys team. Following three years on the Western Mustangs men's team, Neilson returned to Oakridge; this time as a coach, where he been involved in some capacity since 1994. As the Senior Boys Head Coach for the last 15 seasons, Neilson has coached numerous players who have gone on to wear the Canadian National jerseys in international competition and pursue professional careers abroad. Jamie has also been involved with the Forest City Volleyball Club, coaching various rep teams while also being involved in several of FCVCs developmental program as well as assisting with the implementation of Smashball with the London Sharks Volleyball Club. This past year, Neilson served as the Assistant Coach with the 18U Boys and 12U girls teams. Congratulations, Coach Jamie!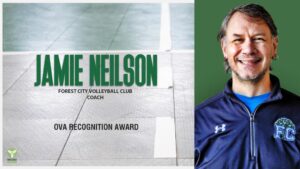 OVA Achievement Award is presented to an individual who has had an impact on volleyball development at the regional or provincial level for 10 years or more.
Chandran Chelladurai, whose peers at Forest City Volleyball Club affectionately call 'Chuck', started playing volleyball in elementary school and from that point on would be glued to the game, leading successful career as a player and coach to the London areas athletes. He played all four years as a student at Banting Secondary School which was highlighted by a WOSSA Championship victory in his senior year. Chuck would also play at the club level with the Kineldiego Volleyball Club, an early incarnation of the current FCVC.
Pursuing the game at the next level, Chuck kept his feet firm in London and enrolled at the University of Western Ontario (now Western University) and played for the Mustangs under the direction of the local sports legend and OVA Hall of Fame inductee Vaughan Peckham, who became an important figure to the young Chelladurai. The two would cross paths later on.
While at Western, Chuck got his coaching reps started by returning to his stomping grounds at Banting Secondary as the assistant coach. Years later, he would lead the junior boys team as Head Coach. Seeing the growth of volleyball in his native London and with the success of the long-running FCVC, Chelladurai joined its founder, Peckham, once more in 2005 and for over 15 years has coached countless athletes navigating the FCVC pathway and has led teams to provincial and national success; a notable moment of which is earning a National Championship with his 16U girls team.
He's brought an endless amount of energy to FCVC and over the years became increasingly involved within the club's operations. Having been a dedicated parent, volunteer, coach and board member, it was time to take on new responsibilities. In 2013, Chuck would take the reigns as President of FCVC, succeeding his mentor Vaughan Peckham to carry the commitment to excellence. After three years as President the baton was handed to Tom Kerkhoff, but Chuck still provided his wisdom and guidance in the Past President capacity. Currently, Chuck is the Head Coach of the 13U girls Lorax.
Chelladurai's passion for the game has passed down to his children, who went on to pursue volleyball in the OUA. His daughter, Michelle, was the 2015 Evelyn Holick Award winner and sparked an impressive career with the McMaster Marauders. Congratulations, Coach Chuck!